The Chiroflow® pillow with its water layer at the base, provides outstanding comfort and responsive support for the head and neck.The Patented Waterbase® Design may provide the Solution.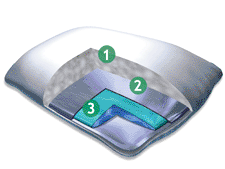 A layer of super-soft, hypo-allergenic polyester fiber floats over top of the water layer and provides outstanding comfort.
A thermal insulator fully encases the water layer to prevent body heat from being drawn from the head, neck and shoulders. This is an essential component of the comfort of the pillow.